---
W

is for Web

an LLC based in Los Angeles, CA since 2013, in Culver City since 2016
Spellbinding Wellness Sites
WELCOME to W is for Web –
Where Web Design Meets Compassion!
With over 15 years of experience in web development, my journey into the digital world has been deeply enriched by my interactions with diverse individuals facing various challenges. Prior to officially founding W is for Web in 2013, my path was illuminated by experiences working with people from all walks of life, including those struggling with mental health issues, individuals in crisis, and those with disabilities.I've learned that the digital landscape isn't just about code and design. It's about connecting with people, understanding their unique needs, and creating websites that resonate with their stories while sharing ethical resources. My experience has taught me the importance of empathy and inclusivity in web design. At W is for Web I don't just build websites; I build bridges of understanding and support.My commitment goes beyond the screen, as I strive to make the digital world a more accessible and compassionate place for everyone. So, whether you're an individual seeking a personal website, a business looking to expand your online presence, or an organization with a mission of inclusivity, W is for Web is here to bring your vision to life with expertise, compassion, and unwavering support.Let's embark on a journey where technology meets empathy, and web design becomes a platform for inclusivity and understanding.-SSC, Author of W is for Web, LLC
based in Los Angeles County, California since 2013.
SERVICES

:
What W is for Web Does
At "W is for Web," I take pride in offering a comprehensive suite of services to cater to your diverse web-related needs. Here's a glimpse of what I can do for you:
---
Empowering Mental Health Professionals:
Custom Website Design
Custom Website Design for Mental Health Professionals:


W is for Web has collaborated with Wildflowers' Movement and Los Angeles County Client Coalition, sharing insights into custom website designs tailored for mental health advocacy. From logo creation to promotional branding imagery, W is for Web has supported both these groups, and provided updates consistently as both a group leader and a non-profit board member.By building and maintaining social media platforms for these groups, such as eventbrite, facebook pages, and newsletters, I have been integral in providing training for others with technical challenges. Not only can a website support the vision of a community support group, but a well-designed online presence for mental health organizations can attract and be a communications hub for many like-minded individuals.My art knows no bounds. From eye-catching logos that represent your brand identity to compelling info graphics that convey complex information with ease, captivating photography, intricate drawings, and lively animations.

We can craft visual elements that truly set your website apart.
---
---
Connecting Through Animation:
Supportive Online Communities
Animated Videos of Lived Experiences:Sandra has shared her own lived experiences with audio hallucinations with an award-winning animated short produced while she attended her first year of USC. Named "PedantPhilia" in 2003, it helped describe her feelings towards an art teacher that became his voice in her head. In this dream-like hand-drawn video, Sandra mishears her own name while the teacher is saying "And draw" and an imagined song & dance scene ensues. Heralded at Tiburon International Film Festival, Hi Mom Film Festival, and Nashville International Film Festival, and screened at many others, "PedantPhilia" helped Sandra open up about her mental health issues in her own community.
With her experience creating films about recovery, feel free to set up a five minute or longer session with Sandra to discuss the possibility of creating your own film, catering the story to suit to a specific audience while maintaining your confidentiality as needed. This might be a topic best opened up at a support group of like-minded creatives. Sandra can help with finding an online or in person community that you would be able to entrust with the responsibility of helping you keep your authentic self while maintaining your privacy.
Animated Explainer Videos for Online Support Communities:W is for Web has collaborated with the Events Industry Council's whiteboard animation project, which is an animated explainer video that helped teach people especially those who report about suicide in the media how to talk about it. These videos were used to discuss sensitive topics like suicide, such as the importance of being able to use phrases like "killed themselves" or "died by suicide" rather than other words that might put the blame on victims. Animation can convey important messages within online support communities, by creating engaging content that fosters understanding and connection. Animations like these can help you explain your mission or core values more clearly while cultivating your own brand.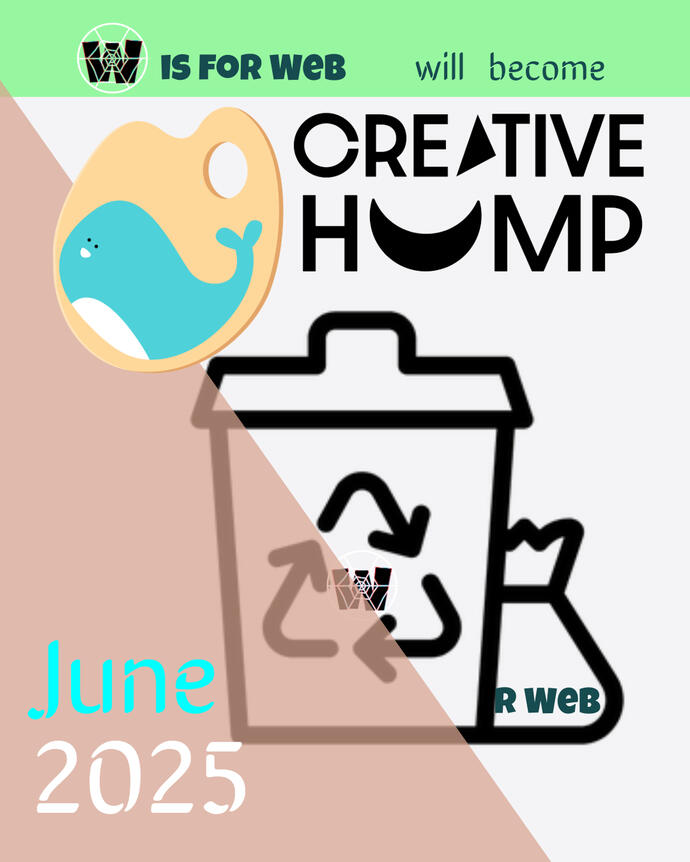 Learning SEO & Marketing Basics & Collaborative Experiments
In the vast digital landscape, being found is just as crucial as being visually appealing.
W is for Web can support you with learning together collaborations. Sandra is still learning to do SEO, but she would love to create a real-life set of experiments with in-depth research and recommendations on the best Search Engine Optimization and marketing techniques tailored specifically for your business. We can try to optimize your online presence and look at other people's methods for driving more traffic to your website.
Nurturing Wellness:
Creative Approaches to Mental Health Recovery
---
---
Maintaining Mental Health Recovery Support: Maintaining mental health recovery support can be built through creativity and mindfulness. Gratitude, perspective, and awareness of our own circumstances can be survival tools when navigating challenging times. While being an artist can be a super power, it has its many emotional and organizational problems. Being creative and mindfully aware of our many own diverse dimensions of wellness can enhance well-being. We encourage you to document your own journey through creative writing or imagery, fostering a sense of community and self-expression in mental health recovery.If you'd like to share any of your writing, poetry, personal stories, artwork, or other creative endeavors, feel free to ask for support with finding online or in person communities with which to share your work. If you happen to be in Los Angeles, Wildflowers' Movement is one group for example which invites its members to collaborate creatively online. Enhance the engagement and credibility of your content with imagery that you can create on Canva or Adobe Express, both now enhanced with Ai if you want it. Additionally, promote these articles on your social media platforms to reach a wider audience and drive traffic to your website.
Information Sharing Sessions: At W is for Web, I believe in sharing knowledge and empowering my clients. Join me for information sharing sessions, where you can gain insight into our working methods. Whether you're a DIY enthusiast looking to understand the process or a business owner keen on transparency, I'm here to demystify the world of web design and development.
---
My mission is to be your all-encompassing partner on your digital journey. W is for Web is not just about creating websites; it's about fostering creativity, learning how to boost your online visibility, and sharing the knowledge you need to succeed in the digital realm. Let's collaborate and make your web presence truly exceptional.
---
CLIENTS of W is for Web
Above are some of the local groups and small businesses in Los Angeles which are currently being supported and represented by W is for Web's design services.
Contact me at W is for Web
W is for Web helps anyone who wants support.
Located in Los Angeles County, CA
---
Collaborating on Learning SEO
How to choose Meta-Tags
In modern SEO practices, major search engines, including Google, largely ignore the meta keywords tag for ranking purposes. Google, in particular, has officially stated that they do not use the meta keywords tag as a ranking signal. Instead, search engines primarily rely on other factors such as the content of your page, backlinks, and user experience.However, you can still optimize your meta tags for better user engagement and click-through rates. Here are some tips:1. Focus on Meta Title and Meta Description:
While meta keywords may not have a significant impact, the meta title and meta description are crucial. Craft compelling and accurate meta titles and descriptions that encourage users to click through to your website.
2. Use Relevant Keywords Naturally:
Even though meta keywords don't directly impact rankings, you can still include relevant keywords in your meta title and description. Ensure that these keywords naturally describe the content of your page.
3. Understand User Intent:
Consider the intent behind the user's search and tailor your meta tags to align with that intent. This will not only improve your click-through rates but also enhance the overall user experience.
4. Be Descriptive and Accurate:
Clearly convey what users can expect on your page in the meta description. Accurate and descriptive meta tags can attract the right audience to your site.
5. Include a Call-to-Action (CTA):
Incorporate a compelling call-to-action in your meta description to encourage users to take the desired action, whether it's clicking through to read more, making a purchase, or engaging with your content.
6. Regularly Review and Update:
Stay informed about changes in your industry, target audience, and search engine algorithms. Regularly review and update your meta tags to ensure they remain relevant.
7. Test and Monitor:
Use tools like Google Analytics to monitor the performance of your meta tags. A/B test different variations to see which ones result in higher click-through rates.
8. Mobile Optimization:
Ensure that your meta tags are optimized for mobile users, as a significant portion of internet traffic comes from mobile devices.
9. Schema Markup:
Implement schema markup to provide search engines with structured data about your content. This can enhance the appearance of your search results and increase visibility.
10. Consider Rich Snippets:
Explore opportunities for using rich snippets, such as review stars or product information, to make your search results more appealing.
In summary, while meta keywords may not be a critical factor, focusing on other aspects of your meta tags, such as the title and description, can contribute to better user engagement and overall SEO success.
SEO Strategies
Navigating Google Recognition for Mobile Services:
---
1. Google's Home-Based Business Verification:
Google allows businesses that operate from home or provide mobile services to be recognized on the platform. During the verification process, Google will ask for your business address. If you operate from home, you can choose to keep this address private, displaying only your city and region on your public profile.Note: To complete this verification, having a business email associated with your domain is crucial. This not only serves as a means of contact for potential clients but also acts as evidence of your business's legitimacy.


2. Obtaining a Business Email:To fulfill this requirement, acquiring a professional business email is imperative. Two excellent options to consider are Google Workspace and Zoho Mail:Google Workspace:
Google Workspace provides a comprehensive suite of productivity tools, including Gmail for Business. For just $6 per user per month, you get a professional business email, along with other collaborative tools like Google Drive and Google Meet. This service seamlessly integrates with other Google services, facilitating a smooth workflow.
Click here to sign up for Google WorkspaceZoho Mail:
Zoho Mail offers a forever-free plan with a custom domain email address. This is an excellent option for small businesses looking to keep costs down. Zoho Mail provides a user-friendly interface, robust security features, and the flexibility to scale your email needs as your business grows.
Click here to sign up for Zoho Business mail free


3. Setting Up Your Business Email:Whichever service you choose, setting up your business email is a straightforward process. Both Google Workspace and Zoho Mail offer step-by-step guides to assist you in creating and configuring your professional email addresses.4. Completing Google Recognition:With your business email in place, you can confidently proceed with the Google verification process. Follow the steps outlined in the provided YouTube tutorial to ensure that your mobile services business gets the recognition it deserves on Google.
Click here to apply to become a verified business on GoogleConclusion:Whether you operate from a fixed location or offer mobile services, having a strong online presence is fundamental to the success of your business. By obtaining a business email and leveraging Google recognition, you not only enhance your credibility but also increase your visibility to potential clients. With user-friendly platforms like Google Workspace and Zoho Mail, setting up your professional email is a seamless process, ensuring that your mobile services business is well-equipped for the digital landscape.




---
Social Media Marketing
---
How to Publish on Social Media with a Marketing Strategy
In the dynamic realm of online business, harnessing the power of social media is no longer an option—it's a necessity. "W is for Web" understands the pivotal role that social media plays in modern marketing, and we're here to guide you through the essentials of crafting a strategic approach to publishing on these platforms.The Social Media Calendar: Your Blueprint for Success
One of the cornerstones of effective social media management is a well-crafted social media calendar. This tool acts as your roadmap, outlining when and what to post across different platforms. By planning your content in advance, you ensure a consistent and engaging online presence.Start by identifying key dates, events, and industry trends relevant to your business. Incorporate these into your calendar to stay timely and relatable. Consistency is key, so establish a posting frequency that aligns with your audience's preferences without overwhelming them.SEO Tags: Elevate Your Visibility
Enhancing your social media posts with SEO tags is a game-changer for online discoverability. Much like optimizing your website for search engines, incorporating relevant keywords into your social media content boosts your visibility in platform searches.Each post should include carefully selected keywords related to your business, industry, and the specific content of the post. Be strategic and natural in your approach—these tags should seamlessly integrate into your captions and descriptions. This simple step can significantly increase the chances of your content being discovered by a broader audience.The Power of Visuals: Incorporating Video Content
In a world inundated with information, visual content, especially videos, has emerged as a highly effective way to capture audience attention. Including videos in your social media strategy can convey complex messages in a more digestible format and create a deeper connection with your audience.Consider creating videos that showcase your products or services, share behind-the-scenes glimpses of your business, or provide valuable insights and tips. Platforms like Instagram, Facebook, and LinkedIn offer various formats, such as stories, IGTV, and live videos, enabling you to diversify your content and cater to different audience preferences.Maintaining Your Profile: A Continuous Effort
Building an impactful social media presence is not a one-time task—it's an ongoing effort that requires consistent nurturing. Regularly update your profile information to reflect changes in your business, and engage with your audience by responding to comments and messages promptly.Furthermore, regularly review and refine your social media strategy. Analyze performance metrics, such as engagement rates, click-through rates, and follower growth, to understand what works best for your audience. Adjust your approach accordingly, ensuring that your social media presence remains dynamic and responsive to the evolving needs of your audience.In conclusion, mastering the art of publishing on social media requires a thoughtful strategy. By leveraging a social media calendar, incorporating SEO tags, embracing the power of video content, and maintaining a dynamic profile, you'll not only enhance your online visibility but also build a meaningful connection with your audience.At "W is for Web," we specialize in crafting bespoke strategies for businesses like yours. Elevate your social media game with us, and let's make your online presence truly shine.

---
Strategic SEO:
11 Essential Tips to Propel Your Business to the Top
---
In the dynamic world of digital marketing, mastering Search Engine Optimization (SEO) is crucial for businesses aiming to rise above the online noise. This article explores 11 indispensable SEO tips, with a dedicated focus on keyword selection using SEMrush research and monitoring favorite keywords for optimal competitive advantage.
1. Location Optimization:Enhance your local SEO by incorporating your business location into your website's title. This targeted approach ensures that your business is easily discoverable by potential customers in your vicinity.


2. Reviews as Social Proof:Foster a positive online reputation by accumulating at least 10 reviews on your Google Business listing. Positive reviews not only instill trust but also contribute significantly to your business's credibility.


3. Subcategories for Precision:Utilize tools such as the GMB Everywhere Chrome extension to gain insights from competitors. Identify and implement relevant subcategories on your Google My Business listing to provide a comprehensive snapshot of your offerings.


4. Service Pages for Depth:Strengthen your online presence by creating dedicated service pages on your website. Each service should be showcased on its own page with detailed content, keywords, and engaging information, optimizing your site for both users and search engines.

5. Quality Over Quantity in Content:While regular content updates are beneficial, prioritize quality over quantity. Regularly revisit existing content to ensure relevance and accuracy, aligning with evolving search engine algorithms.

6. User-Centric Approach:Focus on meeting user needs. A user-friendly website not only attracts more visitors but keeps them engaged. This approach enhances the overall user experience, a key factor in SEO success.

7. Speed through Decluttering:Optimize your website's speed by removing unnecessary plugins and widgets. A streamlined, fast-loading site is more likely to rank higher in search engine results.

8. Content Harmony:Craft content for your audience first, then optimize for search engines. Find the balance between user-friendly, informative content and SEO best practices to achieve a harmonious online presence.

9. Backlinks for Authority:Build high-quality backlinks from reputable sources to bolster your website's authority. Quality backlinks act as digital endorsements, signaling to search engines that your content is valuable.

10. Regular Maintenance:SEO is an ongoing process. Regularly revisit your website, update keywords, optimize images, and ensure your site remains responsive and mobile-friendly. Consistent effort is key to sustained success.


11. Keyword Mastery with SEMrush:Take your SEO strategy to the next level by leveraging SEMrush for comprehensive keyword research. Dive into your competitors' websites, analyze their chosen keywords, and identify gaps in your strategy. Monitor your favorite keywords and assess their competitiveness using SEMrush's robust statistical insights. This data-driven approach allows you to strategically choose keywords that give you a competitive edge, ultimately propelling your business to new heights in search engine rankings.
---
---
By combining these 11 essential SEO tips with strategic keyword research using SEMrush, you'll equip your business with the tools needed to navigate the intricacies of the digital landscape and emerge as a formidable presence in your industry. Remember, SEO success is a journey, not a destination. Stay proactive, stay adaptive, and watch your business ascend in the digital realm.
---
---